Posts for: June, 2016
By Waterfront Dentistry LLC
June 17, 2016
Magician Michael Grandinetti mystifies and astonishes audiences with his sleight of hand and mastery of illusion. But when he initially steps onto the stage, it's his smile that grabs the attention. "The first thing… that an audience notices is your smile; it's what really connects you as a person to them," Michael told an interviewer.
He attributes his audience-pleasing smile to several years of orthodontic treatment as a teenager to straighten misaligned teeth, plus a lifetime of good oral care. "I'm so thankful that I did it," he said about wearing orthodontic braces. "It was so beneficial. And… looking at the path I've chosen, it was life-changing."
Orthodontics — the dental subspecialty focused on treating malocclusions (literally "bad bites") — can indeed make life-changing improvements. Properly positioned teeth are integral to the aesthetics of any smile, and a smile that's pleasing to look at boosts confidence and self-esteem and makes a terrific first impression. Studies have even linked having an attractive smile with greater professional success.
There can also be functional benefits such as improved biting/chewing and speech, and reduced strain on jaw muscles and joints. Additionally, well-aligned teeth are easier to clean and less likely to trap food particles that can lead to decay.
The Science Behind the Magic
There are more options than ever for correcting bites, but all capitalize on the fact that teeth are suspended in individual jawbone sockets by elastic periodontal ligaments that enable them to move. Orthodontic appliances (commonly called braces or clear aligners) place light, controlled forces on teeth in a calculated fashion to move them into their new desired alignment.
The "gold standard" in orthodontic treatment remains the orthodontic band for posterior (back) teeth and the bonded bracket for front teeth. Thin, flexible wires threaded through the brackets create the light forces needed for repositioning. Traditionally the brackets have been made of metal, but for those concerned about the aesthetics, they can also be made out of a clear material. Lingual braces, which are bonded to the back of teeth instead of the front, are another less visible option. The most discrete appliance is the removable clear aligner, which consists of a progression of custom-made clear trays that reposition teeth incrementally.
How's that for a disappearing act?!
If you would like more information about orthodontic treatment please contact us or schedule an appointment for a consultation. You can also learn more about the subject by reading the Dear Doctor magazine article "The Magic of Orthodontics."
By Waterfront Dentistry LLC
June 02, 2016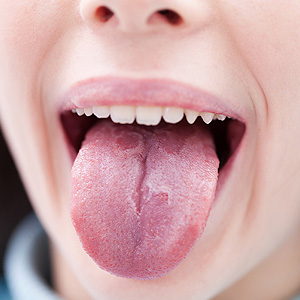 Some things in life look worse than they really are. A condition known as "geographic tongue" is a good example: while it may look serious, it's not a cause for real concern.
If you've never heard of geographic tongue it's because it's not a common ailment: it only affects one to three percent of the population. The name comes from patches of redness on the top surface of the tongue surrounded by grayish white borders, which gives the red patches a look similar to land masses on a map.
It's known formally as "benign migratory glossitis," which tells us more about the condition: "benign" means the patches aren't cancerous; "migratory" indicates the patches tend to move and take different shapes along the surface of the tongue. In fact, it's possible for them to appear, disappear, and then reappear over the course of a few days.
The exact causes of geographic tongue haven't been fully substantiated. Researchers believe emotional stress, psychological problems or hormonal disturbances (especially women during pregnancy or ovulation) could be triggers for its occurrence. Certain dietary deficiencies like zinc or vitamin B, or acidic foods are also believed to be factors.
While geographic tongue isn't painful, it can leave your tongue feeling more sensitive with a mild burning or stinging sensation. If you're prone to having geographic tongue, there are some things you can do to reduce the irritation. Try to avoid eating acidic or spicy foods like tomatoes, citrus fruits or mint, as well as astringent substances like alcohol or certain mouthwashes. We may also prescribe anesthetic mouthrinses, antihistamines or steroid ointments to help ease any discomfort.
The good news, though, is that this harmless condition is more irritating than anything else. With a little care and forethought you won't even know you have it.
If you would like more information on geographic tongue, please contact us or schedule an appointment for a consultation. You can also learn more about this topic by reading the Dear Doctor magazine article "Geographic Tongue."