Posts for: October, 2017
By Waterfront Dentistry LLC
October 28, 2017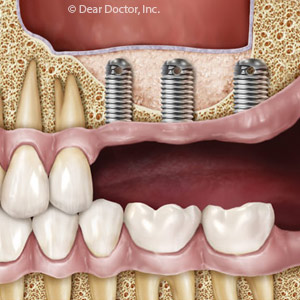 Dental implants are by far the best way to replace missing teeth. But they do more than improve your smile: they can restore your ability to eat, chew and talk properly, especially if the teeth replaced are in the back of your mouth. What's more, they can improve the entire look of your face by restoring facial height and cheek support lost because of the missing teeth.
There is, however, one obstacle to overcome before receiving dental implants — a lack of sufficient bone at the implant site. Bone loss usually occurs when teeth have been missing for some time. This is because when we chew the forces generated by the teeth stimulate continual bone growth to make up for older bone that has dissolved (resorbed). This stimulation doesn't occur after teeth are lost, which slows the rate of bone growth. Over time the amount of healthy bone diminishes.
Without enough bone for support, implants can't be placed properly. Fortunately, some of the bone can be regenerated through techniques that place bone grafting material at the site to stimulate and serve as a scaffold for new bone.  The new bone will eventually replace the graft.
For missing upper back teeth with bone loss, we can take advantage of facial anatomy to grow the bone needed for implants. This area of the face is where the maxillary sinuses, air spaces lined with a tissue membrane, are located on either side just above the upper jaw. After determining their exact size and location through detailed x-ray imaging, we can surgically access the area inside the mouth just above the missing teeth.
The sinus cavity is an area where bone growth can occur by placing a bone graft between the floor of the sinus and the sinus membrane. Sometimes bone growth enhancers are used to stimulate and speed up regeneration. The procedure can usually be performed with local anesthesia (much like a routine tooth filling), with only mild discomfort afterward for a few days managed by an anti-inflammatory drug like ibuprofen and a decongestant for sinus swelling.
After six to seven months, we re-evaluate the area to see if sufficient bone has returned for implant surgery. If so, you will be well on your way to achieving a new look and better function through dental implants.
If you would like more information on building new bone through sinus surgery, please contact us or schedule an appointment for a consultation. You can also learn more about this topic by reading the Dear Doctor magazine article "Sinus Surgery."
By Waterfront Dentistry LLC
October 13, 2017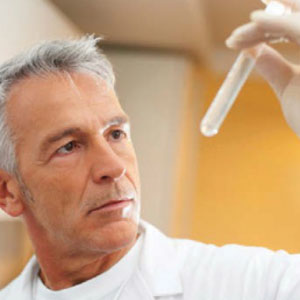 Saliva probably doesn't rate high on your amazement meter. You're more likely to notice its absence and the dry irritation that results.
But you might be more impressed with this unsung bodily fluid if you knew all the things it does. It's definitely a multi-tasker, performing a number of jobs (including aiding in digestion) that not only keep your oral health on track, but your general well-being too. And there are even new testing methods where saliva may even tell us when you're not doing so well.
Here are 3 more tasks your saliva is doing for your mouth right now that truly makes it amazing.
Cleansing. Your teeth's chewing action shreds food so it's easier to digest. But that also leaves behind tiny particles in your mouth. Bacteria feast on these particles (especially carbohydrates like sugar) and produce acid as a byproduct, which can increase your risk of tooth decay. Saliva serves as a kind of "rinse cycle" for your mouth, helping to wash a good bit of these errant particles down your throat and away from hungry bacteria.
Defense. Speaking of bacteria, your mouth is home to millions of them. While most are harmless or even beneficial, a fraction can harm your teeth and gums. Saliva is your first line of defense, emitting an antibody known as Immunoglobulin A that targets these bacteria. Saliva also produces an antibacterial substance called lyzozyme that prevents bacteria from growing.
Enamel Protection. Although it's the strongest substance in the body, your teeth's enamel can't withstand the effects of mouth acid, the by-product of bacterial feeding and growth. Acid levels naturally rise after eating; but even this sudden rise can begin the process of demineralization where minerals in enamel dissolve. Saliva saves the day by first neutralizing the acid and restoring the mouth's normal pH in about thirty minutes to an hour. It also helps restore minerals in enamel, a process called remineralization. It's all in a day's work for this remarkable fluid.
If you would like more information on the importance of saliva to oral health, please contact us or schedule an appointment for a consultation. You can also learn more about this topic by reading the Dear Doctor magazine article "Saliva: How it is used to Diagnose Disease."