Posts for: September, 2018
By Waterfront Dentistry LLC
September 20, 2018
The "magic" behind a dental implant's durability is the special affinity its imbedded titanium post has with bone. Over time bone grows and attaches to the titanium surface to produce a strong and secure hold.
But there's one important prerequisite for ultimate implant success—there must be an adequate amount of bone available initially to properly position the post during implantation. Otherwise, the implant may not have enough support to position it properly or cover the implant surface completely with bone.
Inadequate bone can be a problem for patients who lost teeth some time before and now desire to an implant restoration. This happens because when teeth are missing, so are the forces they generate during chewing. These forces stimulate new bone growth around the tooth root to replace older, dissolved bone at a healthy rate. If that replacement rate is too slow, the volume and density of bone may gradually diminish.
There is a way, though, to build up the bone for future implantation. Known as bone preservation procedure or a ridge augmentation, it's a surgical procedure in which the dentist adds bone grafting material to the extraction socket or the bony ridge. The graft serves as a scaffold for new bone cells to grow and multiply. If successful, there will be enough new bone volume after several months of healing to support proper implant placement.
Bone grafting can add more time to the implant process. It may also mean you will not be able to undergo immediate crown placement after implantation (a "tooth in one day" procedure). Instead we would probably suture gum tissue over the implant to protect it and allow for full integration with the bone over a few more months. In the meantime, though, we could fit you with a temporary restoration like a removable partial denture (RPD) or a bonded bridge to improve the appearance of the space while the bone continues to heal.
After several months, your implant will have a better chance of a secure hold and we can then attach a life-like crown. Even if you've suffered bone loss, you'll then have the benefit of not only a durable implant but also a new smile.
If you would like more information on dental implants, please contact us or schedule an appointment for a consultation.
By Waterfront Dentistry LLC
September 10, 2018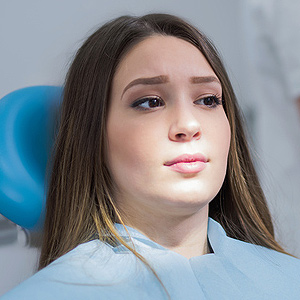 Dental anxiety is a common problem: it's estimated that one in two Americans admits to some level of nervousness about seeing the dentist. On the extreme side of this statistic about 15% of the population even avoid or postpone dental care because of it. While comedy shows routinely make fun of people's fear of the dentist, the consequences of not receiving needed dental care due to dental anxiety are no laughing matter.
Fortunately, visiting the dentist doesn't have to be a nerve-wracking, butterflies-in-the-stomach experience. Here are 3 ways to make sure your next visit is more pleasant.
The right dentist. Dental care is more than technical—it's also personal and relational. The most important element for reducing dental visit anxiety is a provider you're comfortable with and that you trust. It's especially important for high anxiety patients to find a dentist who also has compassion for how they feel and won't judge them—instead, working with them to find just the right combination of techniques and possible medications that encourage relaxation.
Oral sedation. For many people nervous about dental visits the answer could be prescribed sedation medication taken an hour or so before their appointment. Typically a mild sedative, the dose is just enough to help them relax. It's also often coupled with other methods like nitrous oxide or local anesthesia for a pain-free and unstressed experience.
IV sedation. For people with high levels of anxiety, it's often beneficial to increase the level of sedation. One of the best ways to do this is with an intravenous flow of medication that will place a person in a deeper state of relaxation. Although this method requires careful vital sign monitoring during the procedure, it's often the best way to calm patients with high anxiety so they can receive the dental care they need.
Working with your dentist, you can develop just the right mix of these and other methods for making your dental visits easier. No matter what your level of anxiety, you don't have to avoid the dentist nor needed dental care.
If you would like more information on reducing anxiety during dental visits, please contact us or schedule an appointment for a consultation. You can also learn more about this topic by reading the Dear Doctor magazine article "IV Sedation in Dentistry."